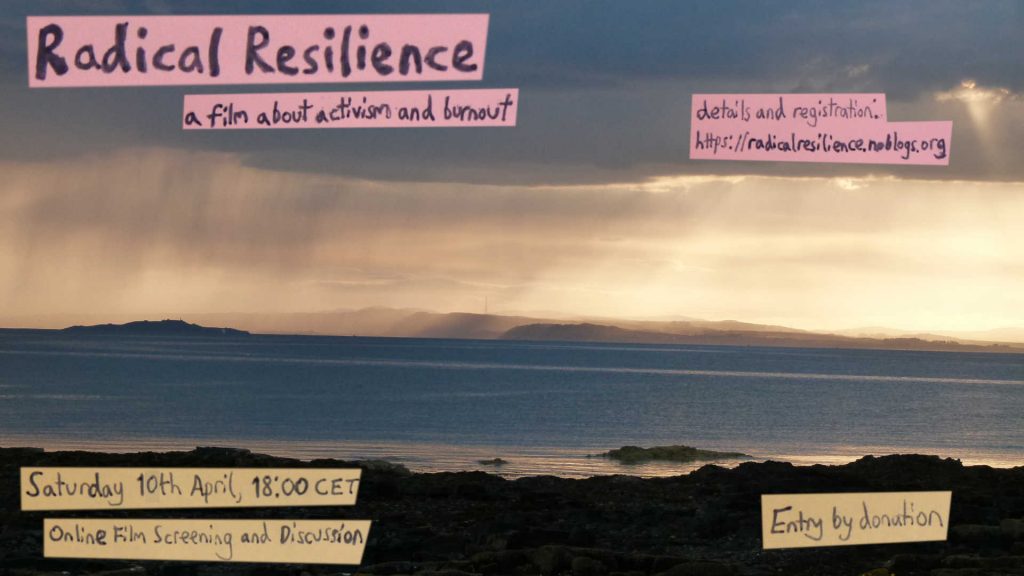 "Radical Resilience is a film for anyone involved in social or environmental change, that aims to spread awareness and encourage discussion about the effects of burnout within our movements, both individually and collectively.
How sustainable are our movements? Do we gain strength from our activism or does it burn us out? Are our group dynamics supportive or are they sometimes draining? How do mechanisms of oppression and privilege play into it all? And how can we improve things and move towards more caring, inclusive and resilient forms of activism??
These are some of the questions explored through interviews in the film."
Check out the trailer to learn more about the film
Saturday 10th April : Online film screening and discussion
At 18:00 CET we'll meet up to watch the film together. Afterwards we'll take a break and then there will be time for discussion and questions. The discussion will be in English, for the film itself you can choose subtitles in English, German, French or Polish. We'll aim to end around 21:00.
~~~~~~~~~~~~~~~~~~~~~~~~~~~~~~~~~~~~~~~~~~~~~~~~~~~~~~~~~
Please register by email to radicalresilience [at] riseup.net . You don't need to give a real name or anything, but there is a limit to how many people can join. If there is anything you need to be able to take part, or if you have any other questions, please let us know.
We won't be asking for a fixed "entry" price, as we would like this event to be as accessible as possible. But if it's helpful for you and you want to support us in continuing with this project we would be happy if you made a donation.